Yacht Charter in
the Caribbean
Sailing in the Caribbean
The Caribbean is a paradise destination blessed with a tropical climate, warm and sunny winters and even hotter summers accompanied by steady breezes. Chartering a yacht in the Caribbean opens the astonishing doors to the Caribbean region which boasts an astounding 7 000 islands (fewer than 10 % inhabited) divided into two major groups: the Greater Antilles and the Lesser Antilles.
The best sailing areas in the Caribbean are: the British Virgin Islands, Antigua and Barbuda, Grenada, Saint Martin, Saint Vincent and the Grenadines, Martinique, Cuba and the Bahamas. Choose one of them, hop on your charter yacht and get ready for the time of your life!
Yacht Rental in the Caribbean
Charter a yacht in the Caribbean and sail in turquoise waters full of colourful marine life, beautiful islands, bays and coves enriched with white sandy beaches and coral reefs. Start your journey from the British Virgin Islands, Martinique, Grenada, Saint Lucia or Saint Vincent and the Grenadines, one of the filming locations of the Pirates of the Caribbean film series to round up a perfect holiday. Besides sailing, there are tons of activities for you, and make sure you explore historical colonial cities such as Havana, Santiago de Cuba and San Juan.
Sailing regions in the Caribbean
Monohull Sailing Boats in the Caribbean
The Caribbean region has perfect sailing conditions for a bareboat charter since it enjoys a year-round warm, tropical climate, while warm, easterly trade winds bring favourable, steady breezes. It is recommended to stay safe during the hurricane season (June-November) and charter a skippered boat; even though direct hits by storm are rare, a seasoned skipper can plan the route for you to avoid the 'hurricane belt' areas. Among our Caribbean offers, you can find comfort cruisers which are more affordable, or a bit more pricey performance cruisers - a little something for everyone's taste.
Monohull boat offer - Caribbean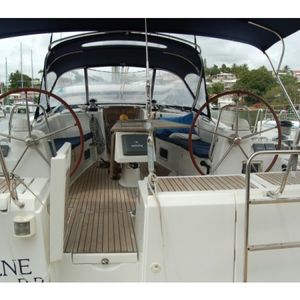 Beneteau 54 (2009)
Nanny Cay Resort & Marina
Explore all monohull boats - Caribbean
Catamaran Sailing Boats in the Caribbean
Catamaran charter is ideal for the Caribbean region considering that catamarans can easily navigate through shallow waters owing to its low draft, which makes it easy for a bareboat charter. Catamarans are also very capable of manoeuvring around coral reefs for which a skippered charter is recommended if you wish to visit as many destinations as possible, navigating from one island to another and enjoy some sightseeing. The tender on your catamaran's stern will be an ideal vessel to explore large, turquoise bays where you can drop your anchor and go for a swim or even try snorkelling.
Catamaran boat offer - Caribbean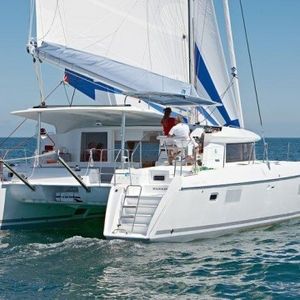 Lagoon 421 (2015)
Marina Puerto del Ray
Explore all catamaran boats - Caribbean
Motor Yachts in the Caribbean
Considering the vastness of the Caribbean region and the sheer number of locations to visit, a motor yacht charter is a perfect tool for such exploration. The performances of motor yachts are more than enough for you to be able to sail the region in no time. Bareboat or skippered, you are guaranteed to have a luxurious experience owing to the great comfort and space a yacht can provide. Simply relax and take your time navigating the islands but also be sure to visit some coastal cities and locations such as Havana (Cuba), San Juan (Puerto Rico), Montego Bay (Jamaica) and Santo Domingo (the Dominican Republic).
Motor yachts offer - Caribbean
Horizon 56 (2007)
Nanny Cay Resort & Marina
Explore all motor yachts - Caribbean
Types of Chartering Options in the Caribbean
---
---