Yacht Charter in
the Caribbean
Sailing in the Caribbean
The Caribbean is a paradise destination blessed with a tropical climate, warm and sunny winters and even hotter summers accompanied by steady breezes. Chartering a yacht in the Caribbean opens the astonishing doors to the Caribbean region which boasts an astounding 7 000 islands (fewer than 10 % inhabited) divided into two major groups: the Greater Antilles and the Lesser Antilles.
The best sailing areas in the Caribbean are: the British Virgin Islands, Antigua and Barbuda, Grenada, Saint Martin, Saint Vincent and the Grenadines, Martinique, Cuba and the Bahamas. Choose one of them, hop on your charter yacht and get ready for the time of your life!
Say hello to this tropical paradise and create sailing memories.
Sailing in the Caribbean
When to Visit the Caribbean
Great thing about the Caribbean is that it is available for sailing whole year round. The temperatures are always adequate for sailing, and no matter when you decide to go sailing in the Caribbean, you will have a lovely time. There are different things to consider, though. The weather in the Caribbean can be a bit unpredictable, but only through certain period of the year. The best time to visit the Caribbean is from November till July. The reason is because the highest possibility of storms is in August and September, and the official hurricane season starts in June and last until November.
Yacht Rental in the Caribbean
Charter a yacht in the Caribbean and sail in turquoise waters full of colourful marine life, beautiful islands, bays and coves enriched with white sandy beaches and coral reefs. Start your journey from the British Virgin Islands, Martinique, Grenada, Saint Lucia or Saint Vincent and the Grenadines, one of the filming locations of the Pirates of the Caribbean film series to round up a perfect holiday. Besides sailing, there are tons of activities for you, and make sure you explore historical colonial cities such as Havana, Santiago de Cuba and San Juan.
Learn more about the process of chartering a yacht
Charter Availability in the Caribbean
Yacht rental is very popular in the Caribbean. Amongst many charter possibilities or yacht charter types, the most popular yacht rental option in the Caribbean is a crewed yacht charter. When it comes to sailboats versus catamarans, their popularity is pretty much the same. It only depends what certain clients want of their Caribbean yacht rental.
If you are thinking to rent a boat in the Caribbean, remember that there are many options you can go for. You can charter a sailboat, charter a catamaran or crewed sailboat or catamaran charter, depending on whether you own a skipper license or not. Other charter possibilities include chartering a motor yacht or to charter a luxury yacht.
Activities in the Caribbean
There's a lot of activities you can do while sailing the Caribbean. The most popular is scuba diving since the Caribbean is famous for its beautiful coral reefs. Very popular is driving the jet ski, playing volleyball on golden sandy beaches, building sand castles, snorkeling or stand-up paddling.
If you need to get inspired, here are some other suggestion about what to do on your sailing holiday.
Vacation Cost in the Caribbean
Depending on the charter type, type of the boat and the age of the boat, yacht charter cost of your week long holiday can vary. The priciest are definitely luxury crewed yachts prices of which can go over a million dollars. However, if you are looking for a simple family week-long sailing week, you are looking at price range from $3,000 to $10,000. Once again, the prices depend mostly on the production year, type of the boat and whether you are going bareboat, with a skipper or a whole crew.
Best Time of The Year to Visit the Caribbean
Best time of the year to visit the Caribbean is from November till July. If you rent a boat in the Caribbean in that period of the year, you will have the best vacation possible. You will escape from most storms which usually appear in the Caribbean in August and September and the hurricane season. High season in the Caribbean is from mid-December to March. This is the time when most of the holiday-makers rush to the Caribbean and this is the time when most yacht charter in the Caribbean happen. The prices are usually steeper at that time, and if you are looking for catching the best deals, opt for time period from November till mid-December and from March till July.
What to See in the Caribbean
Every Caribbean island is a story for itself and every island can offer a visitor something unique. Depending on where you are going on your sailing holiday, you can come across exotic birds and animals, active volcanos, mesmerizing national parks and untouched nature. Places you have to visit include Arikok National Park, Los Haitises National Park, volcanos in Monserrat, Guadeloupe and Martinique, and historic sites such as San Juan National Historic Site in Puerto Rico.
Currency, Language and Visas in the Caribbean
Visa
If you are from the USA or Britain, you do not require a visa for the Caribbean if you intend to stay less than 90 days. But if you are planning a longer trip, it is always advisable to check visa requirements in advance.
People from other parts of the world need to have a visa for most Caribbean islands. That makes the Caribbean yacht rental or Caribbean yacht charter a bit tricky, but it is not hard to acquire a visa for the Caribbean. People who apply for it usually get it without a problem.
Language
English, French, Spanish and Dutch are spoken the most in the Caribbean. That is due to islands' past and present. However, a lot of islands have their own language called Creole. Creole is a language group spoken primarily in this part of the world. So, a lot of islands in the Caribbean speak Creole, but with their own twist. For example, Haitian Creole, Guadeloupe Creole or Martinique Creole. What's interesting is that on the islands of Aruba, Bonaire and Curacao people speak their own language called Papiamento.
Currency
When it comes to currency, most islands in the Caribbean accept US dollar. However, many islands use either East Caribbean dollar (Anguilla, Dominica, Grenada, St. Lucia) or their own currency (Jamaica, Barbados, the Cayman Islands, Bahamas). ATMs give out only the local currency and rarely USD. So, be prepared to use different currencies on your Caribbean yacht rental week.
Time Zone
There are two time zones in the Caribbean – GMT -5 and GMT -4.
Helpful tips
It is a good idea to plan your itinerary in advance. When sailing with a skipper or a captain, he can help you with some useful inside information about the area, but it is generally a good idea to know what you want to visit in advance. That way you will make the most out of your vacation.
When it comes to what to take on a sailing trip, the best advice is to go prepared. Pack enough food for a week, pack enough clothes and pack your medications and everything you might need. Do not overpack because the spaces on boats are a lot smaller and usually you do not need that many things. Food-wise, bring bread, milk, eggs, rice and other things that cannot go bad easily. It is a good advice because shops in the marinas are a lot more expensive. Here's some helpful tips for cooking aboard. Do not forget your medications and seasickness remedies if you are taking them.
Do not forget sunscreen and chargers. Sun is pretty heavy in the Caribbean and you can get sunburnt easily. And it would be the worst if you would have to spend your week all red and inflamed.
Bring your passports and make sure you do not lose them. If you are planning to go across the border, you will find yourself in a lot of trouble if you do not have your passport with you.
Listen to your captain. A captain or a skipper is a person who knows the area and the captain is in charge of boat's and crew's safety. So, you must understand that if something happens to the boat, it is his immediate responsibility. Respect that.
What to Eat in the Caribbean?
The Caribbean has specific and unique cuisine. It is well-known in the world for its flavors and combinations of different spices. So, if you are a gourman, you will have a wonderful time in the Caribbean during your Caribbean yacht charter week. Caribbean cuisine is influenced by all the different nations and people who once dominated the area, like the English, American or European.
When you rent a boat in the Caribbean, get ready to eat a lot of rice, vegetables and legumes. These ingredients are the backbone of their cuisine. When it comes to meat, depending on the island, people usually eat goat meat, fish, chicken and pork.
Famous Caribbean dishes include Pepperpot, which is a meat stew eaten in Antigua and Barbuda. On the British Virgin Islands and the Bahamas, people eat Pepperpot with fungee or cou-cou, which is a corn cake of a sort. Arroz con pollo is a Spanish meal which is eaten in the Caribbean. Also, do not miss the famous Cuban sandwich.
You will also eat a lot of fish and seafood in general, coconuts or papaya during your Caribbean yacht rental vacation.
You can also check out our blog post about sailing food to get inspired.
Climate
Temperature
In the Caribbean there is no typical summer or winter, but rather dry season and rain season. Temperatures do not even vary that much, and one can usually count on high temperatures which are well above 20 degrees Celsius. Temperatures do not go below that point. In the high sailing season you can expect temperatures around 25 to 29 degrees Celsius.
Rain
The rain season in the Caribbean starts in June and last till November. Islands which have higher mountains (St. Vincent and the Grenadines and Dominica) record higher amounts of rain during a course of the year. That is the reason why these islands have jungle-like nature and rich vegetation and wildlife. So, maybe these two islands are a good idea to visit if you love nature when you rent a boat in the Caribbean.
Sea Temperature
If you love warm sea, yacht rental in the Caribbean might be ideal for you! The Caribbean Sea is one of the warmest in the world with average temperatures around 25 degrees Celsius throughout the year. In the north part of the sea, the temperatures are usually around said 25 degrees, while in the south they can go up to 29 degrees Celsius.
Wind
In the high season favorable wind can be expected. The wind blows from 10 to 25 knots and is, therefore, ideal for your sailing week in the Caribbean. If you go sailing in the off-season, the winds can be dangerous. Notorious Christmas wind can be particularly dangerous.
Sailing regions in the Caribbean
Monohull Sailing Boats in the Caribbean
The Caribbean region has perfect sailing conditions for a bareboat charter since it enjoys a year-round warm, tropical climate, while warm, easterly trade winds bring favourable, steady breezes. It is recommended to stay safe during the hurricane season (June-November) and charter a skippered boat; even though direct hits by storm are rare, a seasoned skipper can plan the route for you to avoid the 'hurricane belt' areas. Among our Caribbean offers, you can find comfort cruisers which are more affordable, or a bit more pricey performance cruisers - a little something for everyone's taste.
Monohull boat offer - Caribbean
Explore all monohull boats - Caribbean
Catamaran Sailing Boats in the Caribbean
Catamaran charter is ideal for the Caribbean region considering that catamarans can easily navigate through shallow waters owing to its low draft, which makes it easy for a bareboat charter. Catamarans are also very capable of manoeuvring around coral reefs for which a skippered charter is recommended if you wish to visit as many destinations as possible, navigating from one island to another and enjoy some sightseeing. The tender on your catamaran's stern will be an ideal vessel to explore large, turquoise bays where you can drop your anchor and go for a swim or even try snorkelling.
Catamaran boat offer - Caribbean
Explore all catamaran boats - Caribbean
Motor Yachts in the Caribbean
Considering the vastness of the Caribbean region and the sheer number of locations to visit, a motor yacht charter is a perfect tool for such exploration. The performances of motor yachts are more than enough for you to be able to sail the region in no time. Bareboat or skippered, you are guaranteed to have a luxurious experience owing to the great comfort and space a yacht can provide. Simply relax and take your time navigating the islands but also be sure to visit some coastal cities and locations such as Havana (Cuba), San Juan (Puerto Rico), Montego Bay (Jamaica) and Santo Domingo (the Dominican Republic).
Motor yachts offer - Caribbean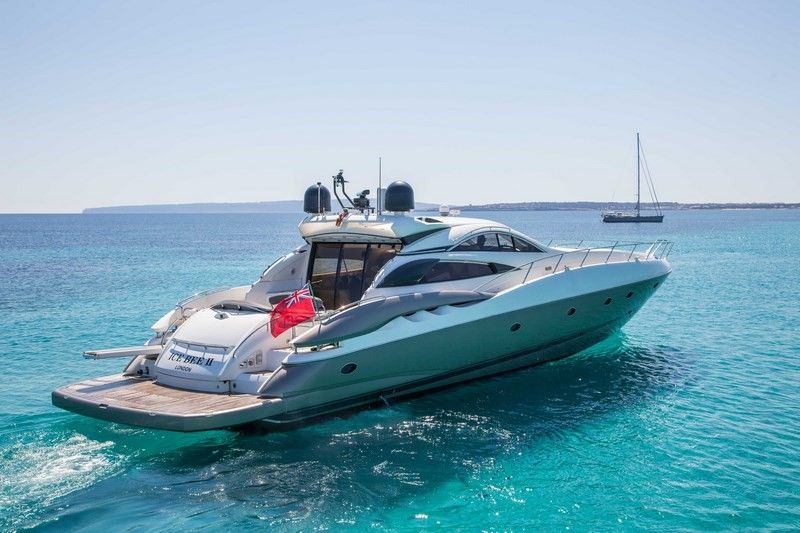 Explore all motor yachts - Caribbean
Types of Chartering Options in the Caribbean
---
---