Sailing in Croatia
Yacht renting in Croatia is one of the most popular holiday options for sailors. In recent years, the Croatian Adriatic has become one of the world's top sailing destinations. It boasts more than 4,000 charter yachts waiting for you to experience the marvellous Dalmatian coast and more than 1,240 islands and islets scattered around in the five major regions: Istria and Kvarner region, Zadar region, Šibenik region, Split region, and Dubrovnik region. Get ready to discover mesmerizing ancient cities of Dubrovnik, Split, Šibenik and Zadar along with some of the most beautiful islands in the world like Hvar, Brač, Vis, Mljet and Kornati Islands, on your sailing holiday in Croatia.
Safely enjoy the beauty of Croatian bays and experience a sea of opportunities.
Yacht Charter in Croatia
Croatia boasts one of the world's largest yacht charter fleets, and even the most demanding sailors can find a perfectly suited charter yacht for themselves here. Charter a yacht in Croatia and get yourself a direct ticket to warm summers with dry weather, fair and constant winds like "Maestral". Great sailing conditions, very indented coastline and a large number of marinas, ports and bays have made Croatia one of the most desirable sailing holidays destinations in the world. Croatia has of the largest yacht charter fleets in the world. Get ready to sail the Adriatic and explore its beauties. Mesmerizing ancient cities of Dubrovnik, Split, Šibenik and Zadar are waiting to be discovered, along with some of the most beautiful islands in the world Hvar, Brač, Vis, Mljet and Kornati Islands.
Learn more about the process of chartering a yacht
Passports & Visas
EU citizens can enter Croatia with just a personal ID. Anyone from outside the EU needs a valid passport for entrance to Croatia. Citizens of the U.S., Australia, Canada, New Zealand, Singapore and Israel do not need visas for trips of less than 90 days within a 6-month period. Citizens of Russian Federation and the Republic of Ukraine need a visa for a tourist visit or transit through Croatia.
Customs & Duty Free
Visitors can bring 200 cigarettes, 100 cigarillos, 50 cigars, 250 grams of tobacco, 1 liter of spirits, 4 liters of wine, 2 liters of liqueur and 16 liters of beer, medications for personal use and other goods up to a total value of EUR 430 duty-free. Apart from some exceptions, the import of meat, meat products, milk and milk products by travelers is prohibited. Travelers entering or leaving the EU and carrying €10.000 cash or more must declare it with the Customs.
Pets may enter as passenger's checked baggage or as cargo. When transporting dogs and cats as pets, they must be marked with a transponder. A veterinarian must enter the transponder number into the pet's passport. Dogs and cats must be vaccinated against rabies.
When leaving Croatia, you are allowed to export 200 cigarettes or 50 cigars,1 liter of wine and 1 liter of spirits, 1/4 liter of eau de cologne and 1 bottle of perfume, and articles for personal use.
In Croatia, VAT is called 'PDV'. The PDV tax is 25% on every item you purchase with almost no exceptions. Non-EU nationals can request a refund of value added tax when exiting the EU. To qualify for a refund, you must spend more than 740 kuna on a single invoice, which is approximately EUR 100.
Getting around
The best way to get around Croatian coast is, of course, on your charter yacht. However, there are several other means of transport you can use in coastal cities and on the islands: ferries, buses, rental cars, taxis, bicycles, scooters...
Ferry
Public ferries (operated by Jadrolinija) connect the main coastal centres with inhabited islands. Jadrolinija ferry tickets can only be purchased through the company's website or at its offices, which are usually located in the harbor.
Bus
The bus network is well developed in Croatia and the ticket prices are moderate. Buses are the best and the most affordable option for getting around in bigger coastal cities such as Split, Zadar and Dubrovnik. Keep in mind that buses are not your best travel option on the islands – they are very infrequent.
Car Rental
Car hire is available in all major towns and airports. In order to rent a car you must be 18, have a valid driver's licence and have a major credit card to cover the insurance fees. Keep in mind that it's usually cheaper if you arrange rental in advance. If you have very little time but would like to visit a few places or if you plan to travel around any of the Croatian islands, conider car rental. Croatian roads are easily navigated and highways are in excellent condition. However, we should warn you that parking is expensive and finding parking spaces in cities such as Split and Dubrovnik can be challenging. Watch where you leave your car because illegally parked vehicles will be removed by a tow truck.
Getting around Croatia by taxi
Taxis are still quite expensive in Croatia so don't plan much on using taxis, unless you don't mind spending a lot of money. Still, if you want to avoid the arduous search for a parking space and don't like travelling by bus, opt for a taxi.
Uber is available in Split all year around, and in cities like Zadar, Dubrovnik or Rovinj only in high season. Uber in Croatia only works with licensed drivers.
Scooter
Rental scooters are cheap and their fuel consumption is very low. Scooters are great for exploring the island roads where it is difficult or impossible to go by car. You also don't have to worry about finding a parking space.
Bicycle
You can rent bicycles all over the coast. Cycling is a fun and active way to explore the islands, however, cycling on the mainland requires caution. Most roads on the mainland are very busy and bicycle lanes do not exist everywhere.
Train
Croatia's train network is limited, especially on the coast. Delays are a regular occurrence, sometimes for a number of hours.
Money & Banking
Croatia is a part of the European Union, but the Euro isn't the official currency in Croatia. The Croatian currency is the Kuna (sign: kn, code: HRK). The word 'kuna' means marten, a weasel-like animal. Kuna is devided into 100 lipas. The word 'lipa' means lime tree. The kuna comes in denominations of 10, 20, 50, 100, 200, 500 and 1,000 as notes and 1, 2 and 5 and as coins. The lipa comes in coins of 1, 2, 5, 10, 20 and 50. Unofficially, the Euro is accepted by some local merchants. However, you shouldn't rely on it.
ATMs are widely available all over the country and the easiest way to get kunas is to use an ATM. Watch out for withdrawal maximums, which tend to be between 2,000 and 3,000 kuna per day. Banks are generally open Monday to Friday 8.00 AM - 7.00 PM, and Saturday 8.00 AM -12.00 PM. Money can also be changed in post offices and exchange offices, which have more flexible hours. Credit cards are widely accepted but keep in mind that smaller restaurants and shops may accept only cash.
Why visit Croatia – top reasons to go
You are still unsure whether Croatia is the right choice for your sailing holiday? Don't be. Here's why everyone should visit Croatia at least once in their lifetime:
Crystal clear waters
Spectacular beaches
More than 1,000 islands
Great weather
Rich natural diversity on the small area – 8 national parks and 11 nature parks
Numerous historical sites
Beautiful coastal towns
Rich cultural heritage
Great food and wine
Electronic music summer festivals – Ultra Europe and Hideout Festival
Pula Film Festival and Dubrovnik Summer Festival
Vibrant nightlife
Glorious sunsets
Itineraries
SailingEurope has prepared several 7-day sailing itineraries for yachtsmen who want to experience the Croatian coast in the best way possible:
Rogač Culture North Route
Rogač Culture South Route
Rogač Nature North Route
Rogač Nature South Route
Rogač-Dubrovnik Route
Rent a boat in Croatia and have a wonderful sailing vacation!
Best time to sail
April - October
Closest airports
Zagreb, Split, Dubrovnik, Zadar, Rijeka, Pula
Languages spoken
Croatian
National Parks
Kornati, Krka, Mljet, Brijuni, Plitvice Lakes, Paklenica, Northern Velebit
Sailing regions in Croatia
Monohull Sailing Boats in Croatia
Dive into a diverse monohull sailing boats fleet where you can choose among more than 1,500 sailing charter yachts in Croatia. Whether you are an experienced sailor looking for a bareboat charter in Croatia, or you prefer a more relaxed sailing holiday for which a skippered yacht charter would be the ideal solution, comfort and performance cruisers will satisfy sailors in need of high speeds and the ones looking for higher comfort on board. The size of our charter yacht fleet implies vast price range and special offers. No matter if you are looking for an affordable sailing solution or a top performance high , we will provide you with various chartering possibilities luxury yacht charter in Croatia. Choose among some of the most renowned sailboat brands in the world: Beneteau, Jeanneau, Bavaria, Dufour and many more.
Monohull boat offer - Croatia
Explore all monohull boats - Croatia
Catamaran Sailing Boats in Croatia
Catamaran yacht charter is the perfect solution for exploring the Dalmatian coast and its bays. With its draft of just over one meter, you can anchor even in the shallowest bays. You can find you ideal multihull among best charter yacht brands in the industry like Lagoon, Fountaine Pajot, Nautitech and many more. Catamarans yachts will provide you far more space than the monohull sailing yacht of the same length. Considering their excellent maneuverability even a less experienced sailor chartering bareboat will be able to dock in tight charming marinas of Dalmatian coast. By choosing skippered yacht charter, a professional skipper will utilize entirely sailing capabilities of a catamaran leaving you only to experience pure hedonism of cruising on a multihull yacht in Croatia.
Catamaran boat offer - Croatia
Explore all catamaran boats - Croatia
Motor Yachts in Croatia
Motor yacht charter will provide the ultimate luxury and performance for a captain and its crew. If you are seeking for such pleasure craft, you can choose among some of the world's most renowned motor yacht brands docked in our offers: Ferretti, Princess, Chranchi, Azimut. Performances of a motor yacht are ideal for island-hopping - reach any island securely and rapidly while indulging in luxury of your charter yacht. Charterting a motor yacht will give you the opportunity to sail to all Croatian isles while having enough time to explore each islands historical heritage. No matter whether they are operated by the professional skipper or are they bareboat charter and operated by you alone, their ultimate V-shaped hull, will enable a yacht to slice the biggest waves and ensure complete comfort, while with more powerful engines you will be able to set your perfect pace.
Motor yachts offer - Croatia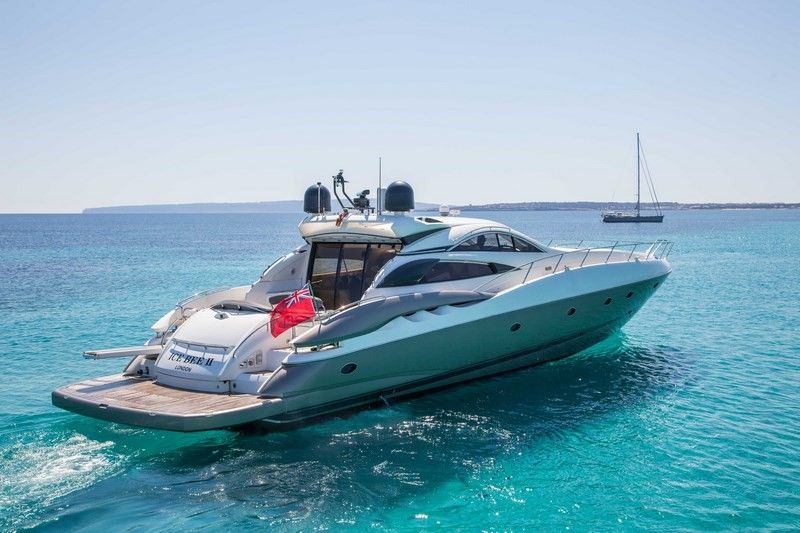 Explore all motor yachts - Croatia
Gulet Charter in Croatia
Gulet charter cruise will awaken your senses – cruising on the charming wooden boat between countless islands. Gulets are a particular type of a vessel, carrying on their back excellent boat building and maritime heritage. For those reasons, each gullet exudes unforgettable charm. Our offers will provide a wide range of gulet charter types, meaning your only task would to choose which level of luxury gulet charter you prefer. All our gulets are wholly crewed by skipper, deckhand, cook, and hostess, leaving you all the time in the world to soak up the sunbeams, swim in crystal clear water and explore the Dalmatian coast. When you are not swimming or sunbathing, you will have a privilege to discover numerous Croatian islands, by foot, bike, scooter, car, quad or any other transportation mean that comes to your mind.
Gulet boat offer - Croatia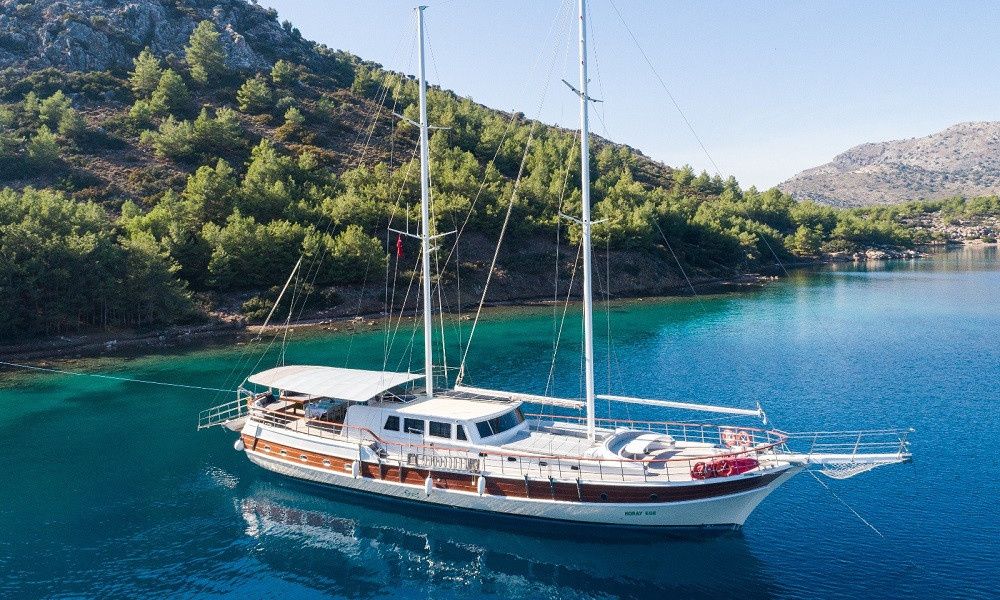 Explore all gulet boats - Croatia
Types of Chartering Options in Croatia
---
---