Sailing in Turkey
Yacht Charter Turkey
---
Charter a yacht in Turkey and see what it means when the East meets the West. Sail in one of four sailing areas: Göcek, Fethiye, Bodrum and Marmaris region, all located on the famous Turkish Riviera. Meet friendly local people, immerse yourself in rich Turkish culture, eat amazing food and get splendid views of one of the most desirable sailing destinations in the world. Excellent sailing conditions with no tides and no strong currents will make your sailing holiday relaxing and unforgettable.
You will want to revisit all tasty memories created in the country of kebabs, baklava, and coffee.
Yacht Rental in Turkey
Yacht charter in Turkey gives you the opportunity to cruise the Lycian Coast which makes up much of the Riviera and visit maritime settlements, see rugged cliffs and the Lycian Tombs, buildings carved out of rock. Marmaris will amaze you with its stunning bays, ancient cities and lively nightlife. Do not miss an opportunity to see a jewel of the eastern Mediterranean, Bodrum, a city known as ancient Halicarnassus. Swim and sunbathe on the Blue Lagoon Beach, the most photographed beach in Europe.
Learn more about the process of chartering a yacht
Climate in Turkey
Turkey yacht charter can be a dream come true! Why? Because Turkey has one of the most favorable climates for sailing in the world. So, if you are a fan of a lot of sun and great winds, Turkey yacht rental might be just for you.
Best time to sail in Turkey is from April to October. Average temperature in Turkey is between 15 and 20 degrees Celsius, but during these months, the temperatures are a lot higher. Summer temperatures can go way beyond 30 degrees. During colder months in winter, the sea temperature is around 10 to 15 degrees Celsius, and in the summertime, it can go to 26 degrees.
When you rent a boat in Turkey, you must also know a bit about winds. The two most notorious ones are called Meltemi and Lados. You will deal with them for the most part of your Turkey yacht charter. Meltemi is blowing from the north. It is a strong and warm wind that occurs mainly in August, but if you sail in Turkey in July or September, you may also meet Meltemi. The other is called Lados, which is also a strong wind that blows from the southeast. It occurs in winter and autumn. If you rent a boat in Turkey in autumn months, there is a high chance you will sail with the help of Lados.
What to Eat in Turkey
Turkish cuisine is unique. Turks love coffee, and they have a lot of sweets which are specific for their country. Probably the most famous dish is kebab which has spread all across the world.
The uniqueness of Turkish cuisine comes from its roots. Turkish cuisine is a combination of Mediterranean cuisine with Arabic and Asian. That makes it one of a kind in the world. The most common meat eaten in Turkey is beef, and they also eat a lot of legumes, rice, a lot of vegetables and variety of spices.
On your boat charter Turkey, you must try a baclava. It is a sweet pastry that people in Turkey eat almost every day. But believe us, you will never be hungry during your Turkey yacht rental.
And if you need an inspiration on what to eat when sailing, check out our blog post.
How to get to Turkey
There are different ways of getting to Turkey and depending where you are from. The quickest is definitely the plane, but there are other means of transportation worth considering.
Plane
Turkey has a lot of very good airports. The busiest ones are definitely the ones in Istanbul (Istanbul National Airport and Sabiha Gökçen Airport). Almost every airport in Turkey is located near the coast. So, when you rent a boat in Turkey, take a look at the map and see which airport is the closest to your charter location. The biggest airport and one of the rare ones that is not located near the sea is an airport in Ankara (Esenboğa Airport).
A national airline in Turkey is Turkish Airlines. Turkish Airlines fly to almost every country in the world. If you are from Europe, you can easily get to Turkey. The only exceptions are Slovakia and Iceland. You can also find flights from America, most of Asia, Australia and even Africa and Oceania.
Boat
The biggest ports are Istanbul, Bodrum and Izmir. You can get to them from many ports in the Mediterranean. There are also ferries which connect Turkey with Greece, Cyprus and Egypt.
Train
It is not easy to reach Turkey by train. There are routes from Greece and Iran, but it is generally not that easy if you are from somewhere much farther away. There is an option of trans-Balkan route, but it takes several days.
Road
If you are from Europe, there are ways to get to Turkey by road. There are a lot of options to reach Turkey by buses, and the prices can be really reasonable. If you have time, it would be nice to take a road trip all the way to Turkey because there are so many beautiful countries and places to see along the way. If you have time, that is our recommendation
Things to do While Sailing in Turkey
Istanbul
Istanbul is a truly a magnificent city which speaks a unique story. The city exists for thousands of years, so a lot has happened in that timeframe. You cannot go wrong when visiting Istanbul, the only city in the world situated on two continents.
Pamukkale
Pamukkale is a complex of unique mineral springs in southwestern Turkey. It is on the UNESCO World Heritage List. It a one-of-a-kind place and you will be taken aback by Pamukkale for sure. Near Pamukkale there is an ancient city of Hierapolis, which was built as a place where people from ancient world would come if they had medical issues.
Antalya
Another beautiful city you would want to visit. Rich with history and culture, Antalya is located on the Mediterranean coast of Turkey. It has a lot to offer, so everybody can find something for themselves.
Izmir
This mesmerizing city is a great place if you want to experience Turkish culture and have a lot of fun doing it. The city is located on the Aegean Sea, and it is very close to the ancient city of Ephesus, the place where Mother Mary was born.
St. Nicolas Island
St. Nicolas Island is for those who wish to experience history. It is famous for the Byzantine ruins.
And if you're still undecisive about what to do while sailing, here is what we recommend
Things Required for Sailing in Turkey
Like anywhere else in the world, to sail in Turkey you need nothing more than a good will. However, once again, like anywhere in the world for your boat charter Turkey, you will need a Transit Log. Transit Log is valid for one year and if you leave Turkish waters, it becomes invalid.
Also, Turkey yacht rental requires you to prove you are capable of handling the boat yourself. You will need a skipper license for that. So, make sure your skipper license is valid and that is good for Turkey yacht charter. Otherwise you will need to hire a skipper.
Other Sailing Destinations
Croatia
Thailand
Greece
Portugal
France
Malta
Best time to sail
April - October
Closest airports
Istanbul, Ankara, Antalya, Izmir, Bodrum, Dalaman
Currency
Turkish Lira (TRY)
Tips
Istanbul, Butterfly valley, Ölüdeniz Beach, Bodrum, Fethiye, Olympos National Park
Monohull Sailing Boats in Turkey
Choose a monohull sailing yacht and sail along the Turkish coastline. Monohulls are classic boats that offer easy navigation and no engine noise while sailing, maintaining high speeds with the help of the Meltemi winds that pick up in the afternoon. The yachts are equipped with a bow thruster, helping you maneuver in tight and narrow spaces. Monohulls are the ideal choice if you want to feel the real sailing sensation for an affordable price. More experienced sailors can opt for a bareboat yacht charter and skipper their own yacht with friends and family. Others should choose a skippered yacht charter and let a skipper handle the winds. The skipper will also make recommendations about private locations and secluded coves, as well as Turkish gastronomic delights. You only have to choose a yacht most suitable for you and get ready for a perfect sailing holiday.
Monohull boat offer - Turkey
Explore all monohull boats - Turkey
Catamaran Sailing Boats in Turkey
A multihull yacht is designed with more interior and exterior space in mind. Cruise the warm turquoise Turkish waters comfortably, especially when going windward. Catamarans have a shallow draft that enables mooring and anchoring closer to the shore, thus making it easier for you to visit designated locations. You can choose a bareboat yacht charter and plan your own sailing route on the Turkish coast. We would advise a skippered yacht charter, so you can have more leisure time, while a skipper handles local Turkish winds and katabatics. Swim in tranquil bays under sunny skies, go scuba diving and paragliding, and lounge peacefully on sandy beaches while sipping a cold drink.
Catamaran boat offer - Turkey
Explore all catamaran boats - Turkey
Motor Yachts in Turkey
With a luxurious motor yacht, you will be able to comfortably sail the coast. Designed to transfer you from location to location quite fast, motor yachts are perfect for longer and more demanding sailing journeys. Spend your days relaxing on a deck, stern or flybridge while having a nice view on the magnificent Turkish Riviera and nearby islands. Choose a skippered yacht charter and visit many archaeological sites, castles and temples. Stroll around Fethiye, a traditional market town and one of the most famous destinations for paragliding. Go shopping in bazaars and feel free to bargain. Have a swim in the Blue Lagoon or find a secluded bay and relax while watching the sunset in a peaceful atmosphere with your friends and family.
Motor yachts offer - Turkey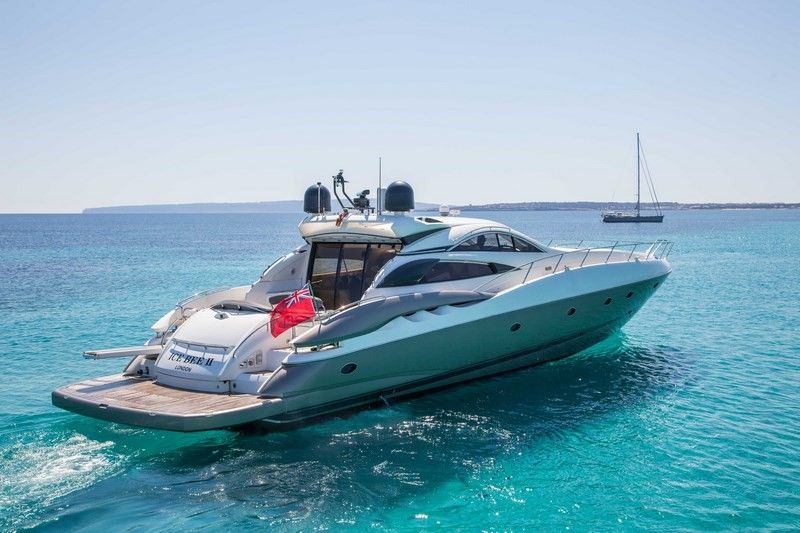 Explore all motor yachts - Turkey
Gulet Charter in Turkey
Gulets originate from Turkey, which means there are more gulets here than in any other country. Their traditional wooden looks with large sun decks and cozy communal areas, as well as their rich history, will make your sailing holidays unique, pleasant and memorable. The width and bulky design will ensure enough space and smooth sailing on board of gulet, where you can fully relax on hot summer days. A gulet comes with a crew, so you do not have to worry about everyday tasks during sailing. A skipper and a deckhand will take care of the navigation and winds, and a cook and hostess will handle food service and drinks. Make sure to try Raki, an iconic Turkish aperitif served with seafood.
Gulet boat offer - Turkey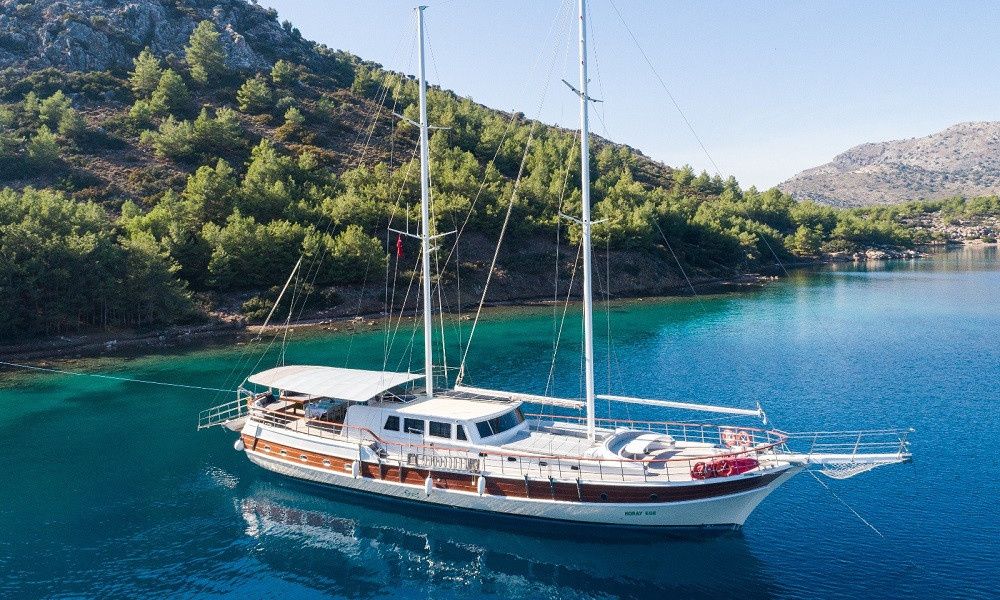 Explore all gulet boats - Turkey
Types of Chartering Options in Turkey
---
---