Best time to sail
April - October
Closest airports
Istanbul, Ankara, Antalya, Izmir, Bodrum, Dalaman
Currency
Turkish Lira (TRY)
Tips
Istanbul, Butterfly valley, Ölüdeniz Beach, Bodrum, Fethiye, Olympos National Park
Monohull Sailing Boats in Turkey
Choose a monohull sailing yacht and sail along the Turkish coastline. Monohulls are classic boats that offer easy navigation and no engine noise while sailing, maintaining high speeds with the help of the Meltemi winds that pick up in the afternoon. The yachts are equipped with a bow thruster, helping you maneuver in tight and narrow spaces. Monohulls are the ideal choice if you want to feel the real sailing sensation for an affordable price. More experienced sailors can opt for a bareboat yacht charter and skipper their own yacht with friends and family. Others should choose a skippered yacht charter and let a skipper handle the winds. The skipper will also make recommendations about private locations and secluded coves, as well as Turkish gastronomic delights. You only have to choose a yacht most suitable for you and get ready for a perfect sailing holiday.
Monohull boat offer - Turkey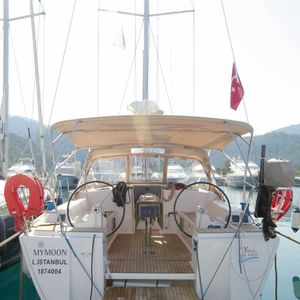 Dufour 405 (2012)
Marina Orhaniye
Explore all monohull boats - Turkey
Catamaran Sailing Boats in Turkey
A multihull yacht is designed with more interior and exterior space in mind. Cruise the warm turquoise Turkish waters comfortably, especially when going windward. Catamarans have a shallow draft that enables mooring and anchoring closer to the shore, thus making it easier for you to visit designated locations. You can choose a bareboat yacht charter and plan your own sailing route on the Turkish coast. We would advise a skippered yacht charter, so you can have more leisure time, while a skipper handles local Turkish winds and katabatics. Swim in tranquil bays under sunny skies, go scuba diving and paragliding, and lounge peacefully on sandy beaches while sipping a cold drink.
Catamaran boat offer - Turkey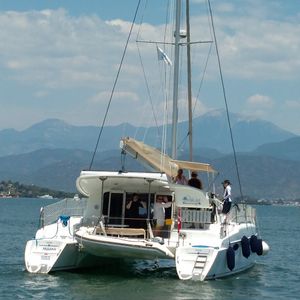 Fountaine Pajot 36 (2013)
Ece Marina
Explore all catamaran boats - Turkey
Motor Yachts in Turkey
With a luxurious motor yacht, you will be able to comfortably sail the coast. Designed to transfer you from location to location quite fast, motor yachts are perfect for longer and more demanding sailing journeys. Spend your days relaxing on a deck, stern or flybridge while having a nice view on the magnificent Turkish Riviera and nearby islands. Choose a skippered yacht charter and visit many archaeological sites, castles and temples. Stroll around Fethiye, a traditional market town and one of the most famous destinations for paragliding. Go shopping in bazaars and feel free to bargain. Have a swim in the Blue Lagoon or find a secluded bay and relax while watching the sunset in a peaceful atmosphere with your friends and family.
Motor yachts offer - Turkey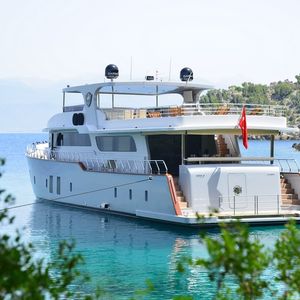 Trawler F (2015)
Belediye Marina
Explore all motor yachts - Turkey
Gulet Charter in Turkey
Gulets originate from Turkey, which means there are more gulets here than in any other country. Their traditional wooden looks with large sun decks and cozy communal areas, as well as their rich history, will make your sailing holidays unique, pleasant and memorable. The width and bulky design will ensure enough space and smooth sailing on board of gulet, where you can fully relax on hot summer days. A gulet comes with a crew, so you do not have to worry about everyday tasks during sailing. A skipper and a deckhand will take care of the navigation and winds, and a cook and hostess will handle food service and drinks. Make sure to try Raki, an iconic Turkish aperitif served with seafood.
Gulet boat offer - Turkey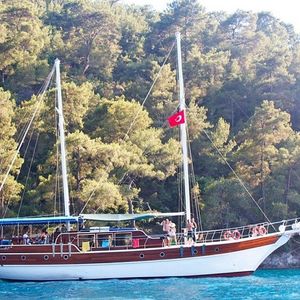 Gulet 75 (1993)
Ece Marina
Explore all gulet boats - Turkey
Types of Chartering Options in Turkey
---
---