Sailing in Greece
Sailing among thousands of beautiful and easy accessible Greek islands in pleasant Mediterranean climate, it is no wonder that yacht charter in Greece is the first choice for sailing the Mediterranean. There are so many locations worth discovering, which is why travelers spend their sailing holidays in Greece year after year. Get ready for an amazing Greek experience and sail in most popular sailing regions: Athens, Corfu, Lefkas, Kos, Rhodes, Cyclades, Macedonia and Thessaly.
Yacht Rental in Greece
Hop aboard your charter yacht and sail to the most popular yachting destination - the Ionian Islands. Visit a gramophone museum on Lefkas and discover local gastronomy on Corfu with a glass of strong ouzo and a plate of olives with cheese. Decide between a bareboat or a skippered yacht charter in Greece and sail to the vibrant island of Zakynthos or to Mykonos, "the island of the winds"; enjoy mineral baths, lively nightlife and meet tourists from all around the world. Walk around Ithaca, the home of Odysseus and the setting of thousand-year-old myths.
Best time to sail
April - November
Closest airports
Athens, Thessaloniki, Rhodes, Crete
Tips
Acropolis, Santorini, Crete, Mykonos, Rhodes Town, Cape Sounion, Thessaloniki, Peloponnese Peninsula
Sailing regions in Greece
Monohull Sailing Boats in Greece
Monohulls are ideal to moor in crowded marinas because they occupy only one berth compared to multihulls that occupy more. Wide range of such boats offer competitive, but often more affordable charter prices out of high season. With their modern hulls they will offer you freedom of great sailing with no engine noise, thus being environmentally-friendly and very efficient. Because monohulls point and easily tack during upwind sailing, you will sail fast in windy Greek seas and manoeuvre between green and flourishing Greek islands with our bareboat or skippered yacht charter. Spend mornings enjoying gentle breeze on golden sand beaches, afternoons drinking local beverages and evenings tasting Mediterranean cuisine, especially fish.
Monohull boat offer - Greece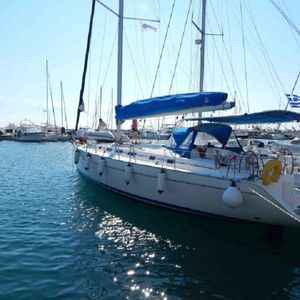 Beneteau Cyclades 50 (2009)
Marina Alimos
Explore all monohull boats - Greece
Catamaran Sailing Boats in Greece
Catamarans or multihulls have a small draft that allows you to anchor in shallow waters and approach the shore very close. Their multihull shape offers higher stability which is perfect for open water sailing. Catamaran charter prices are a bit higher, but you are getting spacious interior for storage and outside space for guests to lounge, sunbathe or party in lovely Greek weather, as well as a panoramic view and easy access to a boat which is perfect for families. Pick a bareboat yacht charter in Greece and sail with steady and reliable winds delivered by Maestro, or if you are a beginner in sailing, pick a skippered yacht charter that will provide you with additional leisure time. A skipper will handle fair afternoon winds, show you secluded locations and suggest local cuisine and amenities, such as adventurous water sports and donkey rides.
Catamaran boat offer - Greece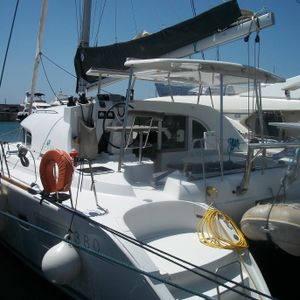 Lagoon 380 (2014)
Marina Kos
Explore all catamaran boats - Greece
Motor Yachts in Greece
With fast, comfortable and spacious motor yachts you can save time sailing from island to island in the most popular Greek sailing areas: the Ionian Islands, the Cyclades Islands, the Dodecanese Islands, the Sporades Islands and the Argo-Saronic Islands. Choose a bareboat yacht charter for more privacy and a skippered yacht charter to get more control at sea and full luxury experience that includes information about the home of the Olympic Games, about one of the oldest languages in Europe and about diversified marine life - turtles, seals and the Greek Dolphin, a symbol of peace and prosperity. Bask on some of more than 1,400 beaches and take a swim in crystal-clear waters.
Motor yachts offer - Greece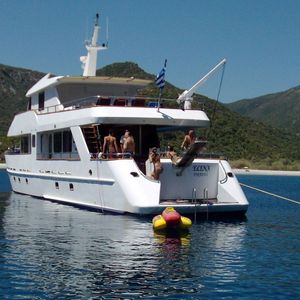 Custom Built 102 (1992)
Marina Alimos
Explore all motor yachts - Greece
Gulet Charter in Greece
Gulets are spacious and luxurious sailing boats great for sailing holidays in Greece. They offer all-inclusive crewed charter experience with a skipper, a deckhand, a cook and a hostess/waitress. You just need to choose the level of luxury you desire and leave the rest to the crew. Charming gulets with rich history will take you back to ancient Greek history in a country with the most archaeological museums in the world. Long sunny days and an idyllic climate will make sure you get the best out of Greece - from swimming, sunbathing and coastal bike rides to sightseeing and admiring ancient and modern architecture, as well as feasting on Greek specialties such as Greek salad, Greek yoghurt and moussaka.
Gulet boat offer - Greece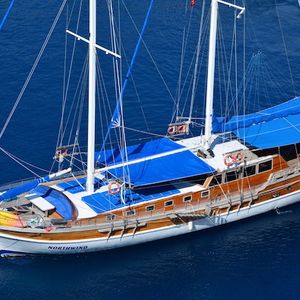 Gulet 28 (2010)
Marina Rhodes
Explore all gulet boats - Greece
Types of Chartering Options in Greece
---
---