Sailing in Portugal
Portugal, a maritime country with its mild climate, bright sunshine and favorable winds is perfect for your next sailing holiday. Explore the best sailing destinations such as lively Lisbon, sunny Algarve and the exotic Azores. Chartering a yacht in Portugal means exploring a still undiscovered, but surprisingly affordable sailing destination.
Yacht Rental in Portugal
Charter a yacht in Portugal's coastal capital Lisbon, whose entrance to the harbor is guarded by the iconic Belem Tower, a UNESCO World Heritage Site. Be a part of the best regattas in the world - the Volvo Ocean Race and the Tall Ships Races. Enjoy in egg tarts, the ubiquitous bacalhau (salted cod) and drink fine wines with friendly Portuguese locals on long stretches of sandy beaches.
If you are up for more adventurous sailing, you can take a plane to the distant Azores Archipelago composed of nine volcanic islands in the middle of the Atlantic. Motorboats and sailing yachts are waiting for you in the marinas of Angra and Horta, located on same-name islands, known for their spectacular and untouched scenery.
Best time to sail
April - November
Closest airports
Porto, Lisbon, Faro, Madeira
Languages spoken
Portuguese
Tips
The capital of Lisbon, Madeira Island, The city of Porto, Algarve Region, The Azores, Praia de Benagil, Falesia Beach
Monohull Sailing Boats in Portugal
Monohulls are ideal for those looking for a wide range of possibilities and affordable chart prices. Charter a monohull sailing yacht and sail a thousand kilometer-long Portuguese coastline from Algarve to Viana do Castelo, or go to the heart of the country by sailing the rivers Minho, Douro and Guadiana. Equipped with a bow thruster, you will comfortably moor and unmoor in crowded marinas. More experienced sailors can choose a bareboat yacht charter and independently explore rugged cliffs and secluded bays. It is advisable to opt for a skippered yacht charter for feeling more free and secure, since a professional skipper with extensive ocean sailing experience can handle occasional southerly winds, currents and sandbars, while you are enjoying undisturbed views of impressive rocks, caves and cliffs in Algarve, and swimming and sunbathing on the very beginning of the Atlantic Ocean.
Monohull boat offer - Portugal
Explore all monohull boats - Portugal
Catamaran Sailing Boats in Portugal
By being faster downwind, more stable and providing more space and privacy, a multihull sailing yacht is an excellent choice for those in need of more comfort. Catamarans are easy to navigate in narrow spaces, they offer a clear view from the cockpit, and their shallow draft will take you close to the shore, thus being able to enjoy Portuguese beaches in Albufeira, Lagos and Cascais. Choose a bareboat yacht charter and experience adventurous sailing between Cap Vicente and the Gibraltar or choose a skippered yacht charter for more leisure time in western part of Algarve that offers excellent wind conditions. A skipper knows the ropes and will take care of everything, while you taste delicious seafood with a glass of a port wine, Portuguese trademark drink.
Catamaran boat offer - Portugal
Explore all catamaran boats - Portugal
Motor Yachts in Portugal
Motor yachts will leave you breathless with their top-notch sailing performances. Lounge on a spacious flybridge and a stern platform. Choose a bareboat yacht charter and tame challenging waters of the Atlantic Ocean. Travel fast from port Portimao to a sheltered anchorage Ponte de Piedade to an old university of Coimbra to Cape San Vincent, Europe's most southwesterly border. Choose a skippered yacht charter and have more time to go dolphin-watching and kitesurfing in Lagos or visit Vilamoura, a luxurious marina popular among jetsetters and filled with restaurants, bars, shops, a golf course and an amazing beach. The crew will be able to indulge in yacht's great comfort and elegance, while you soak up the sun in popular beach resorts Nazare and Peniche and go island hopping in the magnificent Azores, an archipelago composed of nine beautiful volcanic islands.
Motor yachts offer - Portugal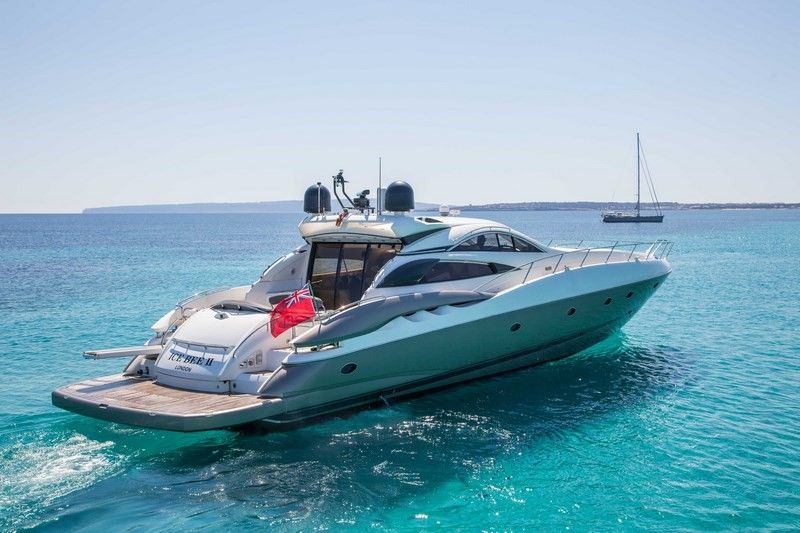 Explore all motor yachts - Portugal
---
---